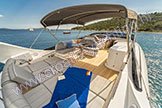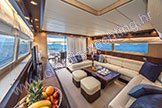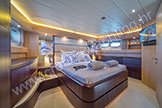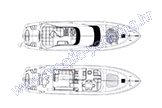 Prenota ora!
Tel: +385 (0)21 332 332
Mobile: +385 91 332 3331
Fax: +385 (0)21 332 331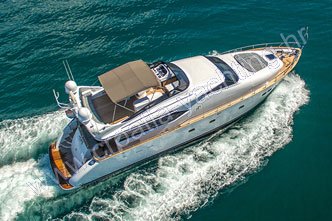 *Solo con skipper
Caratteristica tecnica

Prodotto

2008

Lunghezza fuori tutto

22,75 m

Larghezza

5,6 m

Immersione

1,6 m

Dislocamento

61000

Motorizzazione

2 x 1520 hp

Velocit max.

30 kt

Velocit di crociera

24 kt

Generatore

3 Onan genset

Serbatoio carburante

7300 L

Serbatoio acqua

1850 L

Cabine

4

Posti di letto

8

Doccia / toiletti

3

The Maiora 20S might be the smallest yacht from the Maiora range but it is absolutely perfect. This truly elegant yacht combines classic lines with modern and sporty ones while the attractive fly bridge makes the appearance of the yacht really outstanding. The fly bridge is by far the most attractive part of the deck that allows for moments of pleasant relaxation in the open air and the company of ones most exclusive guests. The lengthened transom allows direct contact with the sea, so the guests can fully enjoy their surroundings. When entering the saloon, Hope I welcomes you with a home away from home environment with remarkable attention to details and plenty of natural light through the wide windows. With no wall separating the dining area from the saloon, it is quite casual to communicate and interact with each other along the entire space. The bedrooms are designed to be not only a place to sleep but also as gracious living areas that offer plenty of privacy. To further increase the luxurious feel of the yachts interior, Hope I was refurbished in 2016. This yacht has more than beauty to offer. The technical contents of the yacht can certainly stand out with arrogance. In fact, it will reach a maximum speed of 30 knots and cruising speed of 24 knots.